Technical specifications
Mixed on different site specifications
Files Included
After Effects Project Files
After Effects Version
CS6, CS5.5
Reviews and comments
Review should contain at least 150 characters. For short review use comments.
Description
From VideoHive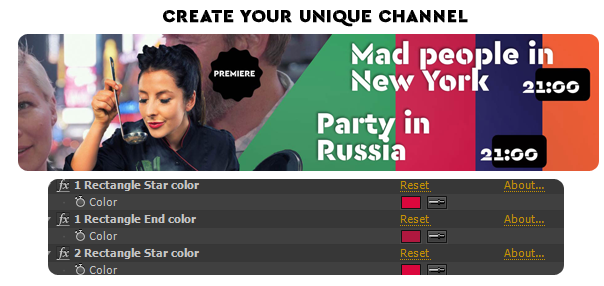 After Effects CS5.5, CS6 Template, This template is easy to customize and have very fast render time.
In project included:
INTRO LOGO #1
INTRO LOGO #2
LOGO
PREMIERE PROMO
TONIGHT PREMIERE PROMO
SOCIAL LOWER THIRD
NOW WATCHING LOWER THIRD
SEE TODAY
NEXT LOWER THIRD RIGHT
NEXT LOWER THIRD LEFT
For best results, use a png image in Promo Compositions. But in videotutorial you can edit image with Pen Tool. It's very easy. Each composition is very easy to change the name of transmissions.
Full HD Compositions
Video Tutorial Included
Images & Music in not included.
http://audiojungle.net/item/funky-energetic-breaks/10883067
Font
http://infogra.ru/typography/besplatnye-kirillicheskie-shrifty-61