Technical specifications
Mixed on different site specifications
Works With
Mac OSX (64-bit) After Effects CC 2015, Windows (64-bit) After Effects CC 2015, Mac OSX (64-bit) After Effects CC 2014, Windows (64-bit) After Effects CC 2014, Mac OSX (64-bit) After Effects CS5/CS6/CC, Windows (64-bit) After Effects CS5/CS6/CC
Last Update
12 January 19
Reviews and comments
Review should contain at least 150 characters. For short review use comments.
Description
From VideoHive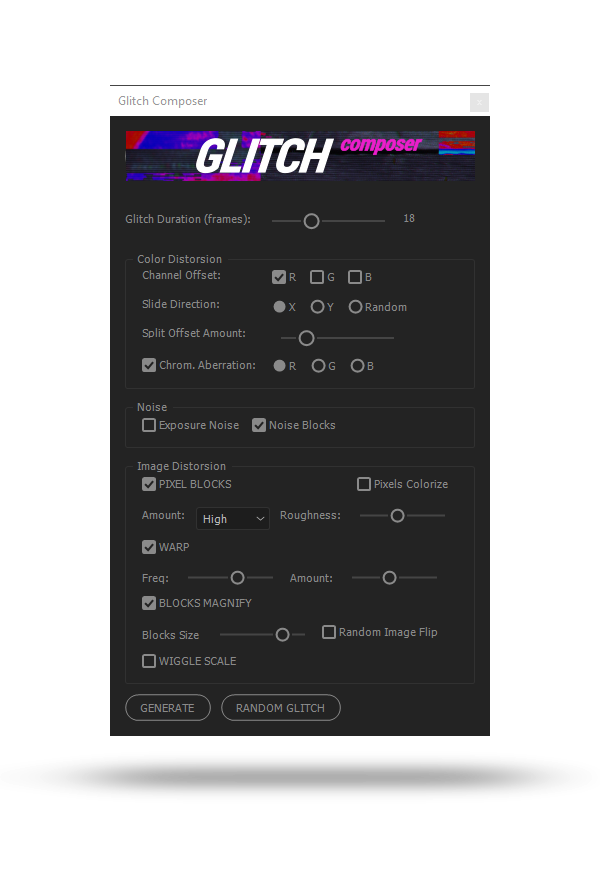 Update 02.28.2018
Added a new function to use the generated glitches effects on images with alpha channel like shapes, logos etc
Description
The market offers you a lot of glitch templates, but:
You always need to import this projects into your current project, overloading it;
These templates usually have a limited number of glitches: using them repeatedly in the same video could come off as repetitive.
Now here is the solution: it is called Glitch Composer!
Glitch Composer is a powerful tool for After Effects for creating infinite glitch effects on your footages.
It is always on hand, intuitive and, above all, it doesn't require complex customizations.
The usage of the script is very simple: you just have to choose and combine different distortion effects and press the "generate" button; the glitch will immediately be created and placed on your composition.
And if you are lazy, or you need to speed up your workflow, you can leave the glitch creation task to the script: press the "Random Glitch" button and the script will create a glitch using random effects with random parameters.
This way you can create infinite, different and unique glitch effects!
Again, you can overlap the glitches created on your composition, generating other original image distorsion effects. This product is cross platform: it works on both PC and MAC, with all AE versions from CS5 to above.
Item features
It works with any resolution
fast and easy to use
It works with any after effects language
infinite glitches combinations
Video tutorial included
Credits
The video used in the video preview is not included and it was edited from
this video
Music is not included, but if you like it, you can purchase it from
https://audiojungle.net/item/dubsteps/11554826